Departments
eBook now Available!
Exclusive - THE book on Traditional & Classic Siamese cats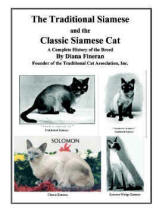 Written by the Founder of TCA, Inc.
---
---
Tullycrine
Affordable
Web Design
---
On December 11, 2002 the British "Pets Passports" Travel rules were extended to the U.S. and Canada! There are a few glitches, however. This is a huge announcement, because it opens the door for importations to England, where they so desperately need breeding stock of Traditional Breeds. No longer will imported cats to England have to go through six (6) months of solitary confinement. My goodness that was cruel, and it went on for decades!
Before taking the leap across the Atlantic, there are a few obstacles in the way of this program taking off. First of all no airline is participating yet. Once it does begin, animals will fly to Heathrow Airport near London, but will have to stay in a quarantine station for 2 or 3 days while the required documents and Veterinarian checks are made. It isn't clear what those are yet either. Each animal has to be microchiped before leaving the U.S. The next problem is the fact that the British microchip scanners can't read the U.S. microchips! People are being advised to bring their own U.S. scanner over with them to ensure that the chip can be read. The animal will be quarantined at the owner's expense until a compatible scanner can be found!
So for the time being here is what I recommend. This period of solving logistics gives breeders time to contact one another on both sides of the ocean. I highly encourage those interested to get to know each other, get to feel comfortable with one another, exchange questions, photos of cats and facilities, and in general just become pleasantly acquainted. In this way buyers and sellers already have established a relationship. When the program is activated everyone interested is ready to go.
Please bare in mind that there are non-member breeders to be avoided both here and in the British Isles. Always the welfare, health and care of our cats must be paramount in this endeavor. The importations will be accomplished ONLY through TCA, INC. breeders and the breeders in our sister association in England, "The Traditional Siamese Cat Association", headed by Sheelagh LeCocq. Her contact information is: Sheelagh LeCocq (T.S.C.A.), 2 Sydenham Villas, Janvrin Road, St. Helier, Jersey, Great Britain, JE2 4LF Phone # 01534 736820 e mail traditionalsiameseuk@yahoo.co.uk I implore our breeders to sell ONLY to members of T.S.C.A. Selling elsewhere stands a high probability of being disasterous!
Sheelah doesn't foresee a "flood of imports for breeding". She mentioned that this will make it convenient for British people, American Servicemen and Diplomats to travel easily without leaving their pets behind.
The guidelines to follow to qualify an animal can be found at www.defra.gov.uk/animalh/quarantine or call the British PETS help line 44-870-241-1710